In this regularly updated post, we've brought together all of our best 5G features to provide an extensive overview of 5G. This article has links to everything you need to know about 5G, from the hottest handsets to articles explaining the underlying technology behind the next revolution in mobile connectivity.
5G will have an impact on almost every area of our business and personal lives and is set to be the way most of us connect to the internet over the next few years.
For some users, 5G will completely replace cabled broadband as well, and some mobile networks are already launching (or soon to launch) 5G broadband options.
There are many parts to the 5G story, of course, with a potential 10-20 fold increase in download speeds, how, where, and when we consume and access data will be revolutionised by 5G.
And with latencies dropping from 50 milliseconds for 4G to just one millisecond via a 5G connection, we will essentially have real-time mobile connectivity. Increases in speed, and this massive drop in latency, will lead to transformative change within mobile gaming, retail, communications, and beyond.
Below, we've provided you with a guide to every area of 5G, and will be adding to it as new use cases, technology, and products make their way into the market.
While current 4G networks have seen speeds increase and latency drop, the technology underpinning these networks works in the same way it always has and it's reached a point at which there is little headroom for further improvement.
5G solves these issues by overhauling how a cellular network looks and works, not only for today's devices but to futureproof networks against surging demand, especially in circumstances where there are a lot of people (and therefore a lot of devices) in one place.
This feature explains how 5G works, how it'll be enabled and also the different varieties of 5G. These depend on the spectrum they use. The rollout of these services differs quite a bit between the US and UK and also between operators - we'll explain all.
We compare the two network technologies in this feature - if you're unsure of the benefit of 5G, this is the one for you. While 5G technology is in some ways just a turbo-powered 4G service, there are some significant hardware and software differences in the 5G network compared with that of 4G.
This feature looks at the differences between the two types and explains why 5G is so important for the future.
5G will ultimately give businesses and consumers hefty increases in speed, lower latency and many more possibilities for the Internet of Things (IoT) as the networks become widespread over the next few years.
Despite 5G sounding like a boring network upgrade, the move from 4G to 5G is actually less like an upgrade, and more like a full-scale transformation (resembling the move from PC to tablet or wearable, rather than PC to laptop)
5G's increased speed and consistency, as well as latency reduction, promise to disrupt both traditional and digital sectors, paving the way for automated vehicles, smart cities, automated factories, and a new wave of business communications.
In recent months, thousands of people protested in the Swiss capital Bern over the danger of 5G , with the Belgian government halting a 5G test in Brussels earlier this year. On top of this, members of parliament in the Netherlands have asked the government to examine 5G more closely. In short, concerns about the health implications of 5G are gaining traction.
5G technology - promising high speeds, lower latency, and the activation of the Internet of Things (IoT) - is still hugely controversial. Citizen groups and some scientists argue that radio frequency (RF) energy exposure - particularly the high frequency part of the spectrum used by 5G – is dangerous to people and the environment.
The idea that a mobile network could replace a fixed connection at home or in the office is not a new one. Most modern smartphones now support tethering or personal hotspot features, with 3G and 4G operators also offering 'Mi-Fi' products.
However, previous generations of mobile data have been constrained by limitations that simply do not apply to fixed broadband. A mobile connection simply could not compete in terms of speed, while data restrictions have been a necessary measure to maintain overall quality for all users on the network. But could 5G be set to change all of this forever?
The UK Government has big ambitions for the majority of the population to be covered by a 5G signal by 2027. As mobile network operators launch new services - including EE 5G, Vodafone 5G, and Three 5G - much of the debate surrounding the network has been around the security risks it represents.
The security of the UK's telecom networks is at the top of the agenda for the government. As 5G opens up more opportunities, the reality is that it is becoming an increasingly attractive target for cyber criminals, as it increases the available threat surface along with the consequences of any damage inflicted.
We've gathered together the best 5G deals on phones overall before selecting the best deals for the key individual handsets. These deals will constantly change, so do check beck if you can't find what you want.
Also expect both the structure and cost of deals to change as we move into 2020, due to various factors - wider network rollout, increased interest in 5G from consumers and businesses and even the fallout Brexit if you live in the UK.
We'll also see a lot more 5G devices debut early next year, too.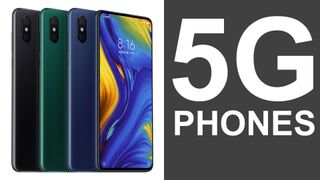 5G is here, but with super-fast networks spreading, only those with a 5G-capable smartphone can join in the communications revolution. Expected to eventually deliver up to 20 times the speed of 4G, 5G phones are now on the market, with most major manufacturers – aside from Apple – having by now issued their debut 5G phones. An estimated 10 million smartphone users will be using 5G phones by the end of 2019. But will you be one of them?
Whichever 5G network you choose, they all offer something a little bit different in terms of coverage and how they're planning on rolling out 5G.
One area a lot of the networks have in common is the selection of phones - especially between the UK networks where the offering is very similar.
Let's run through each of the key US and UK networks one by one and check out where they are in terms of their 5G availability.

The fifth generation of mobile network technology is almost upon us, promising to bring stable connections and much faster data downloads. Whatever your smartphone can do now, 5G technology promises to do it much faster and better. The new network technology has arrived on a small scale already, but is set to launch fully in 2020. Much like 4G, 5G will certainly become the industry standard eventually - which is big news for the stock market. Currently, the 5G market is valued at $131bn (£106bn), with analysts predicting growth of 111% over the next five years.